Sports Mouthguards
Athletes of all skill levels understand the dangers of oral injuries all too well. Whether it's a child just being introduced to team athletics or a serious athlete who spends countless hours working on their game, one thing is certain: Mouthguards are the safest way to keep smiles healthy and whole!
Oak Hill Family Dental Center is happy to offer custom-fit mouthguards to help keep the smiles of athletic patients safe during activities. The best part? Getting one made has never been easier.
Benefits of a Mouthguard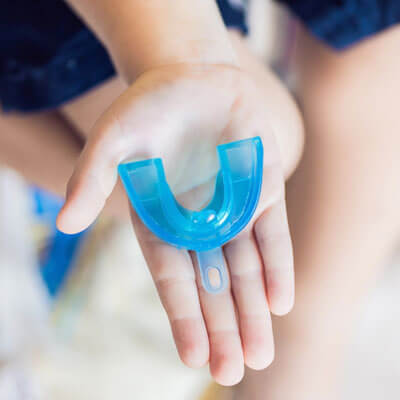 Mouthguards offer protection for the teeth from common athletic injuries like being knocked out, chipped, broken, or sudden head movements that cause the upper and lower jaws to slam together. Cuts and lacerations can also be prevented with oral protection.
Many patients find that while over-the-counter mouthguards can be purchased in a grocery or athletic store, they afford less protection than those offered in the practice. In fact, wearers of generic mouthguards are twice as likely to suffer a concussion than people with mouthguards that are custom made by their dentist.
Other benefits of choosing a custom fit guard include:
Easy speaking
Easy breathing
No slippage during play
Highly comfortable and well fitting
Durable, easy to clean, odorless, and tasteless
Book An Appointment
Dr. Nelson looks forward to speaking with patients of all walks of life who want to protect their teeth with a custom fit mouthguard. Contact the team today to learn more and get the process started.
CONTACT US

Sports Mouthguards Oak Hill, South Austin, Dripping Springs TX | (512) 288-3930