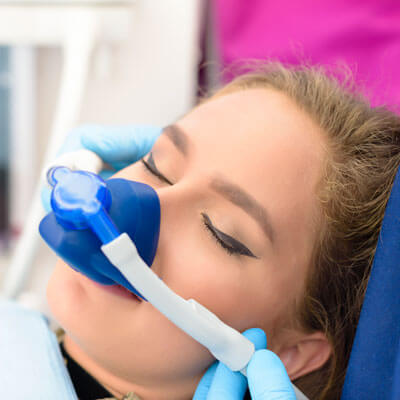 Conscious Sedation
At Oak Hill Family Dental Center, we understand that not everyone loves visiting the dentist…and that's ok.
Dr. Nelson looks forward to welcoming nervous and anxious patients into the practice and is proud to offer conscious sedation dentistry options that bring a soothing, relaxing experience for those who seek it.
Overcoming Dental Anxiety
Dental anxiety is extremely common, and it's nothing to feel ashamed about. Dr. Nelson has had the pleasure of working with patients of all walks of life, helping many to overcome their fear of the dentist by offering compassionate, thorough care.
For patients interested in conscious sedation dentistry, a couple of options may be considered.
Laughing Gas
Though its name suggests a patient may start to giggle, laughing gas has been used for years to help patients relax and feel less anxious about their dental treatments.This is a common solution for patients undergoing treatments like implants, cleanings and root canals or extractions.
Dr. Nelson has undergone training in conscious sedation dentistry, making him an excellent choice for patients of all walks of life.
Learn More Today
Considering conscious sedation dentistry? Dr. Nelson is more than happy to speak to patients about this option. Contact the practice today to begin the process.
CONTACT US

Sedation Dentistry Oak Hill, South Austin, Dripping Springs TX | (512) 288-3930