Protective Sealants
Let's face it, no one likes an unexpected bill of any kind. Especially from the dentist!
That's why at Oak Hill Family Dental Center, the team is proud to offer sealants for children, which are designed to protect the surface of their back teeth from decay. Because sealants lower the potential for experiencing cavities in those teeth, it means parents won't have to worry about an unexpected trip to the dentist.
How Do Sealants Help?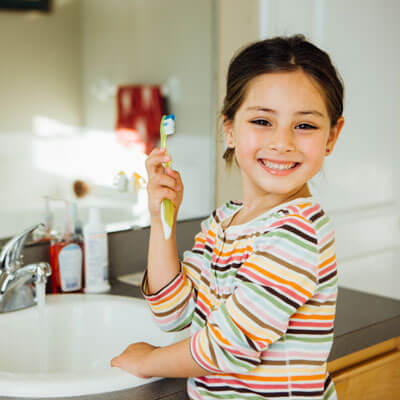 The back teeth, called molars, have ridges that can be difficult to clean, especially for children who are new to brushing their teeth.
Whenever there's a spot in the mouth that's difficult to clean, it's a hotpot for bacteria and potential tooth decay.
Sealants, a clear, film-like material, can be applied to those hard to reach teeth to help bring a protective barrier and reduce the chance of decay. Sealants are pain free, bond to the teeth quickly, and can be applied in as little as ten minutes.
Sealants are designed to last for years, though cracking can occur. If that happens, they can be easily reapplied. When taken care of, they tend to last about five years.
Dr. Nelson recommends that all children around the age of six be evaluated for sealants. Even teenagers and adults who may be prone to tooth decay or cavities can have these protective barriers applied to their teeth.
Book a Visit
Dr. Nelson would love to chat with any patients interested in learning more about sealants or scheduling a visit for themselves or a child. Simply contact the front office today to learn more and get started.
CONTACT US


Protective Sealants Oak Hill, South Austin, Dripping Springs TX | (512) 288-3930