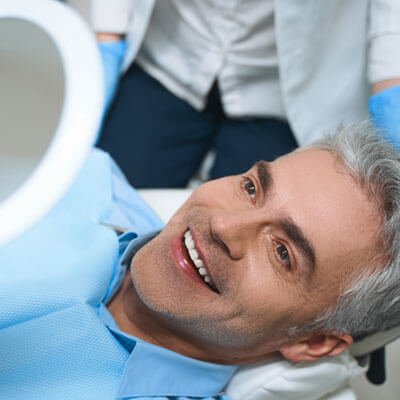 Dental Crowns
Dental crowns are custom shaped dental restorations for a tooth. Often a good option for patients with severe damage to the tooth, crowns restore the structure and strength of the tooth, and give patients a better smile. Crowns also minimize the possibility of infection and decay by sealing the tooth from the rest of the mouth.
Supporting the Natural Tooth
A dental crown is a tooth appliance designed to match the look, feel, and function of the natural tooth, providing the support it needs. Crowns are typically the best option to save the natural tooth.
At Oak Hill Family Dental Center, we recommend crowns when large fillings have weakened a tooth, the tooth has fractures, after a root canal, and for discolorations or other cosmetic reasons.
Creating Custom Crowns
The process to create and install the crown is done over two visits.
Patients may choose from several materials for their crowns. They may be made of gold or porcelain, fused to a gold substrate for strength and beauty. New technology also allows crowns to be made entirely from high-strength ceramic and porcelain for beautiful cosmetic results.
First Visit
At the first visit, after your examination has determined a crown is needed, an X-ray is taken to determine the supporting elements of the tooth and the way of the bone to ensure proper support for the crown.
Under local anesthesia, the natural tooth will be shaped to accommodate the custom crown. The structures on either side of the tooth will also be sculpted to mimic the size and shape of the new crown and strengthen the area.
Next, Dr. Nelson will take an impression to provide the lab with a working model to help fabricate the crown. Color matching is also done to ensure your crown looks completely natural.
Second Visit
The custom crown will be ready in about two weeks. Patients receive a temporary crown before they leave the office, allowing them to function normally during this time.
When the patient returns, the custom crown is installed, typically without any numbing. If adjustments to the bite are necessary, they will be done at this time.
Extremely durable, a crown may last 15-20 years or more, depending on how well the patient takes care of it. Maintaining proper dental hygiene is important to prevent decay of the remaining natural tooth.
Start Smiling Again
Don't let a tooth problem keep a frown on your face. Contact us today to discuss how a new crown can give you back your smile. We're here to help!
CONTACT US


Dental Crowns Oak Hill, South Austin, Dripping Springs TX | (512) 288-3930