Meet Dr. Russell Nelson, DDS
Dr. Russell Nelson graduated Cum Laude from Washington Jefferson College with a Bachelor of Arts degree in Biology. He went on to the University of Texas Dental Branch at Houston, earning a Doctor of Dental Surgery degree in 1983. Russell has been practicing dentistry in South Austin since then.
Servicing His Community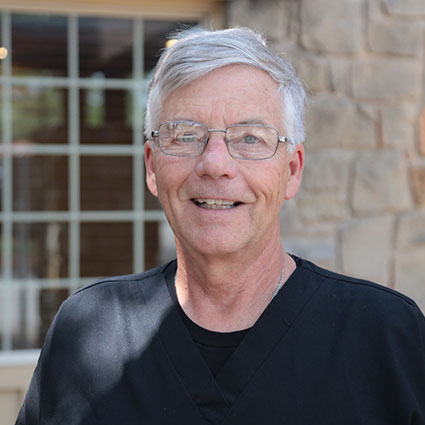 Dr. Nelson enjoys helping alleviate his patients' discomfort, and taking care of their dental needs so they can enjoy life, eat their favorite foods, and smile more. He enjoys working with his hands and believes dentistry is the best fit for his abilities.
It's no secret that many people are often afraid of visiting the dentist and worry that dental work will be painful. Dr. Nelson prides himself on working with patients to ensure their comfort. He's especially careful and patient when working with children, and makes every effort to give them the best dental experience possible.
A member of the ADA and TDA, he believes learning is for a lifetime, and continues to take courses and attend seminars to keep current with changes in his field and increase his store of knowledge.
EXPLORE OUR SERVICES
Reaching Beyond the Walls
For many years, Dr. Nelson has gone on mission trips to provide dental care to residents of Galeana, Mexico and its surrounding villages, the border region of south Texas, Visahapatnam, India, and Guatemala. He plans to continue this ministry for years to come.
Outside the Practice
Dr. Nelson married the love of his life, Marian, while attending dental school over 40 years ago. Both he and his wife enjoy working with each other and make a great team! They have three grown children—Bethany, Hannah and Seth.
In his free time, he enjoys skiing, hiking, boating, woodworking, crafting stained-glass, and bicycling. He also enjoys spending time with friends and family, and is an active member at Sunset Canyon Baptist Church, serving as Deacon, and on various committees throughout the years.
We're Here to Help!
Contact our office today and schedule an appointment. Discover how skilled and caring people can make a difference in your oral health.

Dr. Russell Nelson | (512) 288-3930